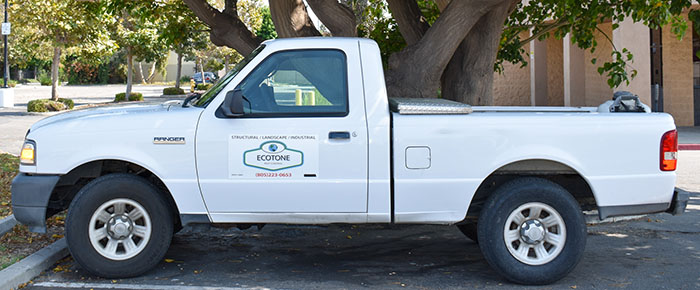 Ecotone Pest Control in Ventura, CA

Ecotone Pest Control has 25 years of experience with pest control in Ventura County, California. While every company is moving forward to become more "green", or environmentally responsible, EcoTone Pest Control offers a level of service that is unmatched. Being a small company, we're able to personalize our services to fit your individual needs. Choosing the most appropriate techniques, such as mechanical and cultural control whenever possible, we handle pests without causing damage to the environment. We use chemicals only as needed, and choose the least harmful available to do the job effectively. These options are less toxic and less risky than pesticides.
The EPA controls what is and is not allowed, and in recent years have ruled that these environmentally friendly chemicals are approved. Since they are safer for your family and pets than the toxic chemicals used long before, they require more frequent treatment.
Big name companies typically sub their jobs out and send different contractors each visit. At EcoTone, we are committed to building a relationship with our customers, and you'll see the same face each time you use our pest control services. The EcoTone pest management specialist assigned to your home will give you tips on keeping household pests away using Integrated Pest Management (IPM).